GTIVistA:&nbsp
EHR Seamlessly Integrated with PMS/HMIS
GTIVistA is an enterprise-wide Electronic Health Record (EHR) built around Open Source VistA EHR complimented by a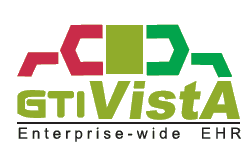 comprehensive suites of proprietary PMS/HMIS solutions. GTI has been working on VistA for several years to develop a turn-key solution for Hospitals & Clinics catering to the Clinicians as well as the Patients. GTIVistA incorporates the best of EHR complimented with user friendly, scalable & easily accessible HMIS/PMS (Hospital Management & Information System/Practice Management System). It incorporates over 160 modules; some of the critical ones are:
CPRS (Computerised Patient Record System):CPRS provides a client server interface that allows healthcare providers to review & update a patient electronic medical record. This includes the ability to place orders, including those for medication, procedures, nursing, diets, laboratory & much more.
LIS (laboratory Information System)
RIS (Radiology Information System)
Pharmacy
BCMA (Bar Code Medication Administration System)
Patient Vital Monitoring
Blood bank
Intake & Output
Incident reporting
Surgery
Tele-medicine & much more
HMIS/PMS/PIMS (Patient Information & Management Solution):
Registration
Admission/Discharge/Transfer
Billing
Appointment
Dashboard
MIS Reporting
Medico-Legal Cases
Inventory
Equipment Utilization
Nursing
Website Integration
Call Centre Integration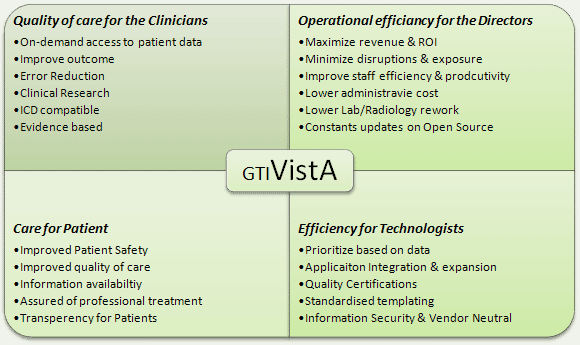 This enterprise wide gtiVistA can be locally deployed at the Hospital or can be accessed over the cloud as an on-demand solution. The cloud based deployment helps hospitals & clinics to access our enterprise-level EHR, liberating organisations from geographic, technological & economic constraints. On the cloud services also ensure use of hundreds of update releases by the VistA community at no extra cost.
GTI has been supported by WorldVistA & OSEHRA is devlopment of the GTIVistA.
WorldVistA
WorldVistA was formed to extend and collaboratively improve the VistA electronic health record and health information

system for use outside of its original setting. The system was originally developed by the U.S. Department of Veterans Affairs (VA) for use in its veterans hospitals, outpatient clinics, and nursing homes. WorldVistA has a number of development efforts aimed at adding new software modules such as pediatrics, obstetrics, and other functions not used in the veterans' healthcare setting. GTI is extremely thankful to WorldVistA for their continued support in Development of GTIVistA. Their support has been instrumental in making GTIVistA a success. GTI has spoken & published several papers are VistA Conferences.
OSEHRA
OSEHRA is the hub of open source software efforts in the health information technology community. OSEHRA uses the

collective resources of the Alliance to drive innovation, and be an honest broker to the health information technology community. GTI has always believed in Open Source & continues to support the VistA community by releasing its product in Open Source. OSEHRA recognizes GTIVistA as one of the major distribution of VistA.
OSEHRA recognizes GTIVistA as one of the major distribution of VistA.
Furthermore, it has provided its Open Source GTIVistA at OSEHRA as well as VxVista, where it has received at the VxVista Expo 2013.
download GTI Practice Management
for WorldVistA EHR
&nbsp&nbsp&nbsp&nbsp&nbsp&nbspGTI is closely associated with OSEHRA & you can download the source code package from: