Computerized Patient Record System (CPRS)
CPRS enables clinicians to enter, review, and continuously update all order-related information connected with any patient. With CPRS, one can order lab tests, medications, diets, radiology tests and procedures, record a patient's allergies or adverse reactions to medications, request and track consults, and enter progress notes, diagnoses, and treatments for each encounter, and enter discharge summaries. Close integration with the Clinical Reminders and Text Integration packages allows better record keeping and compliance with Clinical Guidelines and medical record requirements.
It also enables clinicians, managers, and QA staff to review and analyze the data gathered on any patient in a way that directly supports clinical decision-making.
Features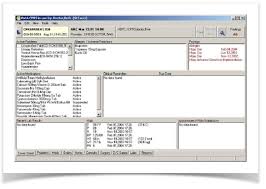 Order checking for:

Out-of-range values.
Duplicates.
Maximum order frequency.
Allergies.
Potential drug-drug, drug-dosage, drug-overlap, drug-lab, and drug-allergy interactions, with appropriate warnings issued.

Orders integrated with progress notes, results, procedures, diagnosis, and problems.
Templating utilities for speedy point-and-click composition of notes.
Interdisciplinary notes enable a single parent note to contain multiple clinicians' notes for their disciplines to make them easier to find.
Tools to create Reminder dialogs for point-and-click resolution of clinical reminders to meet Clinical Guidelines.
Quick orders.
Order sets.
Event-delay orders (for admission, discharge, or transfer orders).
Clinical Context Management to synchronize multiple applications to the same patient.
Accessibility support for disabled users in accordance with Section 508.
Code Set Versioning that ensures current codes to comply with HIPAA legislation.
Improves the accessibility of online clinical information and results via integration with:
Clinical Reminders.
Adverse Reactions.
Discharge Summary.
Progress Notes.
Inpatient and Outpatient Pharmacy.
Dietetics.
Radiology.
Laboratory.
Notifications.
Health Summary.
Problem List.
Consult/Request Tracking.
Patient Record Flags.

Provides access to clinical information from other VAMC and Department of Defense sites through Remote Data Views.
Graphical User Interface (GUI) provides a consistent, event-driven, Windows-style clinical user interface.
Follows the VistA GUI Guidelines, as well as the common standard for Windows.
List Manager Interface allows Windows-like actions for terminal-based users:
Provides communication among VistA packages participating in CPRS through event-driven HL7 messaging